Welcome to our World

DRIVE's commitment is to provide you with unparalleled professionalism and value in travel through our highly trained staff and their extensive knowledge of all aspects of travel. Their high level of expertise has been gained through many of our consultants having worked in travel for many years and from the in-depth personal knowledge obtained through the extensive travel many of our consultants have undertaken.

The Experience
The substantial volume of travel generated through DRIVE, provides us with the ability to negotiate the most competitive price for you, whether it's for airfares, cruises, coach travel, holiday packages, car rentals, hotel accommodation, travel insurance or any large or small item that is so important in making your travel experience, even more enjoyable. It ensures you are getting the best value for the money you spend on your travel arrangements.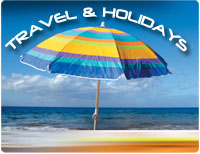 Why Travel with DRIVE?

Planning a trip today can be confusing and time consuming. A DRIVE agent not only arranges the various modes of transportation, but also may be able to save you money with early booking discounts, special fares, accommodation details and travel advisories.



Benefits of Using a DRIVE travel agent
Save Money! – Strong working relationships with travel suppliers and the latest in computer reservations technology enable our agents to access the most up-to-date information on how to get you the best value.
Traveler Advocates – Your best interests are our priority.
Convenience
Service The DRIVE agents are knowledgeable and active in the industry. The DRIVE management provides education, training and resource materials to its employees to equip them with the tools to offer the highest quality of service.